Circular Future is part of an international team of experts advising the City of Tampere about the development of an industrial district called Hiedanranta. The team is powered by the Finnish cleantech company Solved and managed by consultancy Ethica. Circular Future is a member of the Dutch Coöperatie Amsterdam Resilience Collective (Coop ARC).
Hiedanranta is an old industrial area that the city of Tampere wants to transform into a thriving and attractive urban area with 25 000 residents and 12 000 – 15 000 jobs. The approach for the development is unique: the city has branded the planning stage as Väliaikainen Hiedanranta (Temporary Hiedanranta) and has opened the planning process for anyone interested in participating in the process: residents, companies etc. The idea is to find out needs and collectively generate new ideas, as well as create positive hype around the area. Two planning workshops have taken place and the Hiedanranta website documents all the activities, stories and ideas, thus building the image of the area right from the outset.

The aim is to create a first-class and internationally renown urban area with circular & digital solutions, which attracts companies and investors and contributes to economic development, new jobs creation, increased well-being and quality of life of future residents and strengthens the image of Tampere as a forward-looking cleantech city.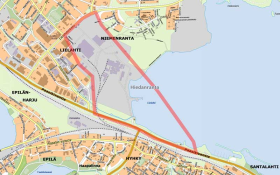 As part of Hiedanranta development there is, for example, a very advanced circular solution being developed to clean up toxic landmasses and use it as a foundation for future construction. Currently a group of local actors are involved, such as the university of Tampere and Ekokumppanit (Environmental Centre of Tampere).
Timeframe:
2015: Demolition of old industrial buildings starts; cleaning up toxic collaborative planning; Hiedanranta website online
2016: An urban planning competition and a city plan proposal
2018 – 2019: A city plan, building start and continues until to 2030's.
Link: http://www.tampere.fi/asuminen-ja-ymparisto/kaupunkisuunnittelu-ja-rakentamishankkeet/hiedanranta.html